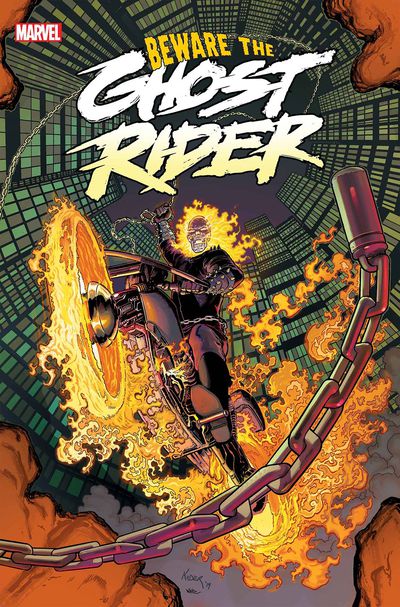 Buy Ghost Rider #1 in the Marvel Comics App or Digital Comics Shop today and receive a special behind-the-scenes Director's Cut.
The press release follows:
Media Release -- The Brothers Ghost Rider ride again! Johnny Blaze ain't just the king of Hell—he's the warden too. He's the first line of defense between the demonic hordes trying to escape the joint and the lords of other hells making a play for his throne and all the power that comes with it – including a certain evil queen from his past! Meanwhile, Danny Ketch never wanted to be a Ghost Rider. Now that his brother's in charge downstairs, Ketch must take on the duty of Earth's Spirit of Vengeance full-time—no matter how much he'd rather be doing anything else... Superstar Ed Brisson (EXTERMINATION) and Marvel Young Gun Aaron Kuder (GUARDIANS OF THE GALAXY) redefine the Marvel Universe's supernatural underbelly for a brutal new era! And, for a limited time, you can get a behind-the-scenes look at this fiery debut!
Those who have preordered or purchased a digital copy of GHOST RIDER #1 before 10/16, 11:59 PM ET, will instead receive the DIRECTOR'S CUT edition of GHOST RIDER (2019-) #1!*
This exclusive content will feature a draft of #1's script, layout pages, inked pages, color pages, a variant cover gallery, character designs and more! Not only will you receive this much-hyped issue – you'll see the inferno behind its creation! Limited time offer, act now!
GHOST RIDER (2019-) #1 DIRECTOR'S CUT
$4.99
Written by ED BRISSON
Art by AARON KUDER, JASON KEITH, VARIOUS
Cover by AARON KUDER & JASON KEITH
On Sale NOW!
Offer Details
*Limited time offer. You must purchase or pre-order a digital copy of Ghost Rider (2019-) #1 before 11:59 p.m. ET October 16, 2019 to receive the Ghost Rider (2019-) #1 Director's Cut. On October 17, 2019, 12:01 a.m. the Director's Cut is available for purchase at $7.99. Those who subscribe to the series will receive the standard edition of Ghost Rider (2019-) #1. Offer is limited to one per person. The offer expires on 11:59 p.m. ET, October 16, 2019. Marvel and ComiXology reserve the right to modify or cancel the offer at any time. Offer is valid for one-time use only, is non-transferable and may not be resold. If any of the products or content related to this offer are returned, your refund will equal the amount you paid for the product or content, subject to applicable refund policies. If you violate any of these terms, the offer will be invalid.
To find a comic shop near you, visit www.comicshoplocator.com

About Marvel Entertainment
Marvel, a wholly-owned subsidiary of The Walt Disney Company, is one of the world's most prominent character-based entertainment companies, built on a proven library of more than 8,000 characters featured in a variety of media over seventy-five years. Marvel utilizes its character franchises in entertainment, licensing and publishing.
For more information visit marvel.com.